Eugenicists need broad centrist support🔗
Now, a lot of people pushing the anti-trans agenda aren't actually murderers or overt political fascists. The extremists are still the extremists. Moderates sustain these genocidal movements, but they don't drive them. Unlike the center, the people who rise to the top are always the ones drawn to the movement because of its viciousness. It still matters, though, whether the people towards the middle are willing to help them or not.
It's still true that legislators and anti-trans activists are not pursuing moderate treatment (psychotherapy, etc); they're distinctly aiming for obliteration. But that message only works for people who agree with those people openly willing to back genocide outright, or people who can agree with the lampshade.
Even most of the republicans don't actually know the people they're voting for are full-on cuckoo-bananas. But the "socially liberal, fiscally conservative" types end up pushing this agenda, even if they're unaware. People see a ballot where one choice describes a more convenient world for them, and they tick it. They're not supposed to think about the violence it takes to make that happen.
People like framing the idea of pride like they frame the abolition of slavery or civil rights: as a celebration of a positive political change that happened in history, rather than an ongoing conflict. As soon as pride feels like a conflict, it feels like a conflict they're on a side of, because they are.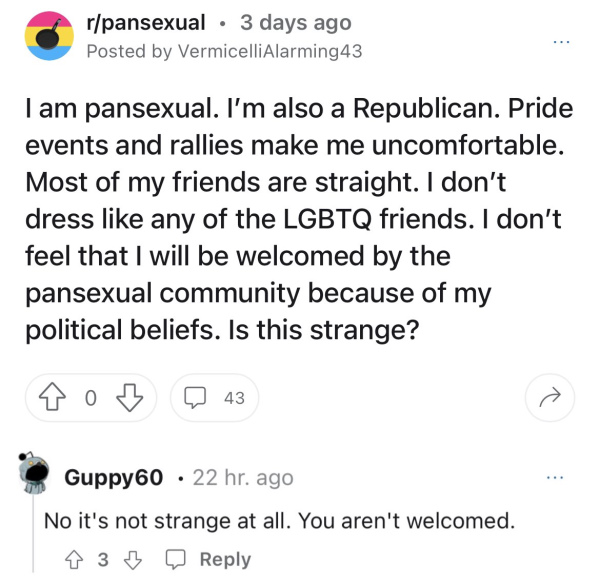 Buying the euphemism🔗
A lot of the people helping propel the cause of genocide don't actually believe in the case for genocide; the genocidalists depend heavily on people buying the euphemism. That's another topic I want to do a longer piece on someday, but here's a brief summary on how rhetoric works on marks.
The mark says they don't want children to be abused. Now, the people pushing the anti-abuse laws don't care about children being abused, and their laws don't prevent abuse, but anti-abuse is the euphemism they're using to disguise their intents, and the mark agrees with that euphemism, so they think they must agree with the policy. In effect, the fascist hijacks the legitimate cause, just like they hijack institutions.
Even though the marks would, in isolation, be opposed to the real agenda of genocide, they believe enough in the cover story that they show up to support the genocidal cause.
The Shirley Exception🔗
Another key factor in why people support policies they disagree with is the so-called Shirley Exception. Transphobic culture and legislation are both perceived as uncomfortable and inconvenient for a few people — adding some hoops they have to jump through — but they're usually not seen as being explicitly genocidal.
The Shirley Exception is a way people rationalize supporting policies that are much harsher than they believe are appropriate. People are generally concerned about people taking advantage of policies. The example Alexandra Erin uses is service animals: people think others are taking advantage of service animal policies to bring their pets to public spaces, and so they want to crack down on that legislation. The policy change, though, is to crack down completely: "facilities aren't required to respect service animals" was the example used in 2018, although "abortions are illegal even in cases of rape, incest, and impregnated children" might ring more familiar today.
The Shirley Exception is when people say "well, surely there will be exceptions". People who (wrongly) trust policing institutions have a strong instinct that the administrators in power will make the appropriate exceptions, to the extent that they're willing to support the angry, punitive policies that explicitly criminalize the very legitimate cases they want exceptions made in. Even when the policy is explicit that it will not allow for exceptions, and even punishes facilities that make any.
"No, this is just to cut down on abuse", advocates of cruel policy say. The perception that there's this ongoing abuse of the current system is crucial, and highly effective at getting people angry enough to pass terrible laws. They say "no one's talking about legitimate cases", even though the policies themselves very explicitly do include those cases.
Replying to AlexandraErin:

If you back up an anti-abortion activist to the point where they actually have to grapple with a case where the parent would 100% die delivering a 100% non-viable fetus, you'll get the same answers: "No one is talking about those cases." and "But surely there will be exceptions."

Wed Jun 06 16:38:48 +0000 2018
Replying to AlexandraErin:

All of those studies of people in Trump Country USA who were shocked, shocked, that the kind man next door who is a good father and a great neighbor and a real part of the community was dragged away by ICE?

They all thought that surely he'd be an exception.

Wed Jun 06 16:39:33 +0000 2018
Replying to AlexandraErin:

If you point out that the laws/policies they're talking about *don't* offer such exceptions and in some cases explicitly forbid them, if you say "So let's put those exceptions in writing."... well, then you're back to Surely People Will Take Advantage.

Wed Jun 06 16:40:30 +0000 2018
Replying to AlexandraErin:

See, the people who are sure that Surely There Will Be Exceptions are very comfortable with the idea of justice being decided on a case-by-case basis. They've always had teachers, bosses, bureaucrats, even traffic cops giving them some slack for reasons of compassion and logic.

Wed Jun 06 16:41:24 +0000 2018
Replying to AlexandraErin:

Surely, they think, surely the leopards will know to only eat the *right* faces, the faces that need eating, and leave alone all the faces that don't deserve that.

Wed Jun 06 16:44:08 +0000 2018
Replying to AlexandraErin:

So moderate conservatives, what we might call "everyday conservatives", the ones who don't wear MAGA hats or tea party costumes and think that Mr. Trump fella should maybe stay off of Twitter, they will vote for candidates and policies that they don't actually agree with...

Wed Jun 06 16:46:31 +0000 2018
Replying to AlexandraErin:

...because in their mind the exact law being prescribed is just a tool in the chest, an option on the table, which they expect to be wielded fairly and judiciously. Surely no one would do anything so unreasonable as actually enforcing it as written! Not when that would be bad!

Wed Jun 06 16:47:27 +0000 2018
And then, of course, exceptions are not made. That thread was written in 2018. Now, in July 2022, we have the case study of the century right in front of us: post-roe abortion treatment.
State laws written to be as extreme and punitive as possible have kicked in, to monstrous results. The medical procedures to end pregnancies that are known to be fatal to the mother are banned, and women are dying. A 10-year-old rape victim had to escape Chicago to get an abortion and escape certain death, and the doctor is being attacked under the law for doing so. Activists are pretending this is some misrepresentation of the law, but it isn't: the laws are as broad and vague as possible, and are written specifically to facilitate this sort of legal attack on minor rape victims and their medical care.
Ohio AG Yost said on Monday that the 10-year-old rape victim who needed an abortion "did not have to leave Ohio to find treatment."

Not so, says Ohio's nonpartisan Legislative Service Commission.

Exclusive at @lawdorknews this morning: chrisgeidner.substack.com/p/jeff-crossma…

Thu Jul 14 16:23:18 +0000 2022
"Oh, God no," one prominent Republican strategist said after members of his party suggested the 10-year-old rape victim in Ohio should have carried the pregnancy to term politico.com/news/2022/07/1…

Fri Jul 15 18:46:53 +0000 2022
'Oh, God, no': Republicans fear voter backlash after Indiana child rape case - POLITICO
Replying to chrisgeidner:

In sum: Anyone who confidently tells you that broad, vague laws are always, for all people, going to be narrowly interpreted to protect medical decisions wherever they are arguably allowed under the law has no understanding of the criminal legal system and should not be believed.

Sat Jul 16 20:09:04 +0000 2022
Lizelle Herrera's arrest in Texas is not unique — and could get much more common – Grid News
This was all known. People told them this, this was the case made against the laws in the first place, but extremist lawmakers pushed them through anyway. Because "abortions" are things only sluts get to escape the consequences of their sin, and the law's job is to come down hard and swift and without room for escape. (Again, angry law.) And, if you ask the extremists, the core people who pushed the wording of the bills and stoked the fears that "people are taking advantage in the first place, you won't see the shock and concern you see on the decent people tricked into supporting the policies. No, you'll see people insist the ten-year-old should have just had the baby, even though, for a child that age, carrying a pregnancy to term would have been fatal. Irrational, dogmatic, and cruel.
This thread is a fair example of the shitty hand-wave analysis by the idiots and/or liars who are saying that Ohio law obviously permitted an abortion on a 10-year-old. It's pure applesauce. /1 twitter.com/pbolyard/statu…

Fri Jul 15 01:49:22 +0000 2022
Replying to Popehat:

/2 You don't even have to read the whole thing. The entire travesty rests on the magical thinking in this post — "of COURSE nobody would disagree that giving birth would cause impairment." But that's both wishful thinking and not the whole standard.

Fri Jul 15 01:49:24 +0000 2022
Replying to Popehat:

/3 The law doesn't permit abortion if "golly gee we all figure there would be impairment." The standard is incredibly strict and narrow.

Fri Jul 15 01:53:25 +0000 2022
Replying to Popehat:

/4 Note how the risk has to be based on a medically diagnosed CONDITION. Is being a 10 year old a condition? If they meant that they would have put it in the statute.

You could absolutely charge a doctor under this unless the 10-year-old had a distinct medical condition.

Fri Jul 15 01:59:28 +0000 2022
Replying to Popehat:

/5 The argument seems to be "ooh, you can trust the government, they'd never prosecute a 10 year old." First, it's the doctor being prosecuted — and ABSOLUTELY the government would do that, for votes and culture war points. I mean look at these assholes.

Fri Jul 15 01:59:29 +0000 2022
Replying to Popehat:

/6 Also, you might say "hey aren't conservatives betraying their values by arguing we should just trust the government not to abuse power?" Of course they aren't! They don't have actual values. Just hate and lust for power. There's nothing to betray.

Fri Jul 15 01:59:29 +0000 2022
Replying to Popehat:

/7 Again: people telling you the law permitted the abortion and that it would be legally safe to perform it are stupid or liars or both. Don't trust them.

Fri Jul 15 02:00:58 +0000 2022
It's such a horrific story that the media kept lying about it, over and over again. First, the story was that it didn't happen, and it's just a bunch of democrat lies. Then the story was Ohio law permitted it, and there was no need to flee the state, trust us. (Then the Ohio AG came in to confirm that, no, that would have been a crime under Ohio law.) Then Then the prosecuting AG got on Fox News and lied about the doctor being "an abortion activist acting as a doctor" who didn't file proper reports when it was obvious that they had. (They also took that opportunity to dox the doctor to an audience with a history of violent terrorism toward abortion providers, as a fun bonus.) Now the best they have is these cases are rare and hard to find, which is of course still a lie.
Replying to libbycwatson:

@libbycwatson They really don't want this horrific story to be believed. It's about as extreme a scenario as anyone could imagine, and really undercuts their arguments.

Fri Jul 15 02:15:20 +0000 2022
Faced with a steady stream of horror stories about the impact of abortion bans on patients suffering failed pregnancies, anti-abortion advocates have retreated into a paranoid conspiracy theory that doctors are trying to "create viral stories making abortion bans look culpable."

Tue Jul 26 20:22:42 +0000 2022
Anyone with half a brain can tell the Shirley Exception is nonsense. Laws are policy. When the text of the law is angry, violent, and vicious, it's because the people writing it are creating policy that is angry, violent, and vicious in order to further an agenda that is angry, violent, and vicious. There can be no tolerance given to policymakers by the people, because there is no tolerance given to the people by the policy.
Conditions, Mental health, and the suicide epidemic🔗
One insidious part of the genocide is that it doesn't rely on extermination camps or state violence. Just creating the right set of societal conditions can be enough to drive people to suicide or destitution.
You might be tempted to file this under Social Murder, but it's really an intentionally genocidal tactic. I'll quote from Monroe, K. R. (2008). Cracking the Code of Genocide: The Moral Psychology of Rescuers, Bystanders, and Nazis during the Holocaust:
That was the key: dehumanization. You first call your victim names and take away his dignity. You restrict his nourishment and he loses his physical beauty and sometimes some of his moral values. You take away soap and water, then say the Jew stinks. Then you take their human dignity further away by putting them in situations where they even will do such things which are criminal. Then you take food away. When they lose their beauty and health and so on, they are not human anymore. When he's reduced to a skin-colored skeleton, you have taken away his humanity. It is much easier to kill non-humans than humans.
Trans people are forced into situations that put them at high risk. See Fatal Violence Against the Transgender and Gender Non-Conforming Community in 2021 - Human Rights Campaign: while many cases of violence are clearly anti-transgender hate crimes, there's a significant amount of violence caused by risk factors exacerbated by trans stigma, like unemployment, poverty, homelessness, and even sex survival work. Many trans homeless people report being denied access to homeless shelters, or reported avoiding shelters altogether because of fears of mistreatment.
from Dismantling a Culture of Violence
HRC finds the same phenomenon in how we're treating trans people as Monroe saw in his study of the holocaust: "The dehumanization of transgender people begins with stigma — hostile political climate, lack of acceptance, cultural marginalization — which simultaneously leads to direct violence in the form of anti-trans hate crimes, but also increases other risks for violence; unequal policing, exclusion from healthcare, employment discrimination, etc lead to poverty, and environments that allow more violence."
The data is incredibly sobering. Some highlights (lowlights?):
From UCLA Williams Institute - Suicide thoughts And attempts Among transgender adults - Findings from the 2015 U.S. Transgender Survey, which primarily used the 2015 U.S. Transgender Survey (USTS), the largest survey of transgender people in the U.S. at the time:
81.7% reported ever seriously thinking about suicide in their lifetimes, while 48.3% had done so in the past year. 40.4% reported attempting suicide at some point in their lifetimes, and 7.3% reported attempting suicide in the past year.
Experiencing discrimination or mistreatment in education, employment, housing, health care, in places of public accommodations, or from law enforcement is associated with a higher prevalence of suicide thoughts and attempts: The prevalence of past-year suicide attempts by those who reported that they had been denied equal treatment in the past year because they are transgender was more than double that of those who had not experienced such treatment: 13.4%.
Those rejected by their religious communities or had undergone conversion therapy were more likely to report suicide thoughts and attempts.
The cumulative effect of minority stress is associated with a higher prevalence of suicidality. For instance, 97.7% of those who had experienced four discriminatory or violence experiences in the past year (being fired or forced to resign from a job, eviction, experiencing homelessness, and physical attack) reported seriously thinking about suicide in the past year (!!!) and 51.2% made a suicide attempt in the past year.
Minority stress experiences, such as family rejection, discrimination experiences, and lack of access to gender-affirming health care, create added risks for transgender people. The cumulative effect of experiencing multiple minority stressors is associated with dramatically higher prevalence of suicidality.
Future research that supports the design and evaluation of suicide intervention and prevention strategies for the transgender population is urgently needed.
Williams institute: Suicide Attempts among Transgender and Gender Non-Conforming Adults
Overall, the most striking finding of our analysis was the exceptionally high prevalence of lifetime suicide attempts reported by NTDS respondents across all demographics and experiences.
Of those surveyed, 50-54% were harassed at school and 50-59% were discriminated against or harassed at work. 60% were refused care by a doctor's office, and 63-78% suffered physical or sexual violence at schools alone. (At work, that number dips slightly to 64-65%.) 57-61% were harassed by law enforcement, and 60-70% suffered physical or sexual violence at the hands of law enforcement.
The UCLA Suicide Risk and Prevention for Transgender People: Summary of Research Findings - September 2021 found that studies indicate approximately 40% of transgender adults have attempted suicide in their lifetimes, and that 30% of transgender youth have attempted suicide in the past year. This report reiterates previous findings, such that family and social support dramatically reduce suicide thoughts and attempts. Parental support is, again, crucial: Transgender youth with families that used their chosen name reported less suicide ideation compared to those whose families would not use their chosen name at home.
As another case of psychological violence, there's also an extrordinarily high level of targetted bullying of trans students in the US. Out in the open: education sector responses to violence based on sexual orientation or gender identity/expression: summary report found that 85% of LGBTQ students in the US were verbally harassed within the year, compared to 55% in Canada and just 16% in Nepal.
The Survivors' Network case🔗
Trans people are denied access to crisis centers. I've already mentioned homeless shelters, but it doesn't end there. In the UK, there's a rape recovery center being sued by one of its patients for also offering services to someone suspected of being trans. A person — "Sarah" — attended a group session with this suspected trans person, and took that as an attack. I say "suspected" because Sarah obviously didn't know the other person's birth status, she just assumed. This wasn't snuck on her: the charity was clearly labelled as being trans inclusive. (Of course, men can be rape victims too, but this was indeed a trans-inclusive women's only facility.)
Of her group therapy session, Sarah says "I felt manipulated and coerced into talking … When I left the session I had a panic attack, I was absolutely distraught." Of course, you are asked to talk in group therapy, that's expected, but not demanded. The problem here is she decided one of her fellow victims was an outsider, an invader, and was more interested in striking back at her than anyone having any sort of recovery that day. What Sarah is asking here is to deny a rape victim a place to heal so she can be more comfortable.
Propaganda🔗
For every openly genocidal activist, there needs to be a small crowd of people who really are just "concerned" about all the supposed harm the victim group is doing. That's why there are so many opinion columns and raving blog posts trying to paint the "trans agenda" as anything other than "exist". The fear and paranoia is the only way it works, and that's why manufacturing it is so key to the movement.
To quote Edwin Moriarty,
From Transphobic Language and the Horus Heresy Into this boiling pot of stress and fear is poured bile and viciousness by a small percentage of the population who believe that trans people deserve this treatment, or worse. They are not the majority of people but they have loud voices, and they are relentless. There's a joke in the UK that there's only a few hundred dedicated transphobes in the UK, but they all have newspaper columns. It's not really much of a joke.

The language of hate these people use poisons the discussion of trans issues. They use a trick that has been used by bigots from time immemorial to reframe discussion in the public eye by using terms and phrases that seem innocuous and unremarkable from the perspective of an uninformed observer, but slowly build together to create a twisted version of the real world that doesn't reflect reality but instead their own hate.
it can be hard to talk about political schemes that are both 1: intended as divisive time-wasting distractions and 2: still very serious and dangerous for the actual humans involved

Tue Jun 14 14:39:58 +0000 2022
Keeping people anti-trans relies on lies, and those lies only exist when fuelled by sensationalized repetition.
For example: The social contagion narrative pushes the idea that people are being tricked into a "lifestyle" and somehow fast-tracked through gender-affirming care. In reality, trans healthcare is the opposite of rushed, and there certainly isn't any fast track. If you've ever been friends with a trans person in your life, you know that trans healthcare is notoriously slow and difficult to get, as — in addition to the immense societal pressure to eradicate trans people, including criminalizing care and attacking doctors — few physicians have the appropriate medical training to administer or recommend the appropriate care. This is a common misconception because — between centrist reporting and outright genocidal propaganda — the media misrepresents these facts.
Something missing from "the trans debate" right now: a lot of trans kids are actively discouraged from transition. I was put through conversion therapy, punished, stripped of privacy, abused, bullied, and shamed by everyone from parents to teachers and peers. I'm still trans.

Wed Jul 06 19:35:07 +0000 2022
Replying to AlanaFeral:

A lot of transphobic arguments boil down to claiming that gender-affirming care is bad parenting/abuse and that trans kids won't happen if parents will just FORCE their kids to conform to cisgender norms. Speaking from personal experience, I promise that shit won't work.

Wed Jul 06 19:38:17 +0000 2022
As, yet again, there's so much of it, I'm going to try to divide it into categories and go through it.
Final word: Save the nuance🔗
i think we should save the nuanced debate over how queer people should present themselves for a day when they're no longer regularly murdered over that

Tue May 25 05:38:49 +0000 2021
There are open questions about best practices in trans medical care and psychology. Those questions are, for the most part, the business of qualified experts and the trans folks in question. There are questions of science, and questions of personal choice, and that is all. There is no space here for a public debate about whether or not trans people should be allowed to exist, or vigilante mobs raising arms to enforce what they've been told "righteousness" looks like. There is never room for an exterminationist debate.
Right now, people are fighting for their right to exist. The right to not be tortured and lynched. Fighting for their lives. There is no way to responsibly criticise the same population that is the victim of a genocide while that genocide is occurring, because such criticism actively aids the genocide. Keep people free. Keep them safe from threats of government and social violence. That is priority one. Only in conditions of reasonable safety can nuanced discourse responsibly exist. Without that, any "critical" discussion is just fuel for the genocidal fire.