The real story of Hiveswap isn't about the game or the universe. Rather, the conversation "about Hiveswap" is dominated by stories about the development and history of the game as a project — starting as a Kickstarter success story but then bouncing from scandal to scandal for years. The story of how Andrew Hussie burned through a $2.5 million dollar investment over eight years to produce almost nothing is fascinating, convoluted, and poorly understood even among Homestuck fans.
Right now, this meta-story mostly exists in the form of oral history. This is probably due to the fact that a lot of the key sources are ephemeral — and most of them have been deleted — but it's also because it feels premature to write up a "postmortem" on a game's development before it's even an eighth of the way finished. There is also significant pressure on people in the know — even people who just lived through backing the project — to keep quiet about all this, for reasons I'll get into.
I'm documenting the story so far so that the Hiveswap Story isn't lost to time, and so there's a decent summary of events so far, and maybe even so new Hiveswap fans can catch up. I dug through every page, announcement, interview, blog post, FAQ, and tweet I could find, and the culmination is this the most comprehensive — as far as I can tell — explanation of Hiveswap to date.
All additions and changes are posted in Appendix IV.
Edit: This is the first, historical article. The second article "More on the Hiveswap Odd Gentlemen Debacle" covers much more detailed leaks about a few specific topics in the story, especially claims about The Odd Gentlemen that were — at the time — rumors. The third article, covering some of the fallout and personal drama from all this, is here.
Throughout this article, emphasis within blockquotes is usually mine. I may in some cases add anchorlinks (dotted) as cross-references.
Disclaimer: While I have done my best to verify everything in this article, it's entirely possible I got something wrong or missed something significant. If so, please let me know so I can make the relevant corrections. All changes will be posted in Appendix IV.
Neither What Pumpkin nor Viz Media would respond to requests for comment. I've contacted them repeatedly, including after this article was published and members of the staff explicitly expressed concern over parts of this article, but they continue to refuse comment.
As part of my research I had the opportunity to speak with former employees from What Pumpkin Studios, but they wished to remain anonymous. (Likely due in part to due to fears of retaliation, due to What Pumpkin's history of aggressive litigation against whistleblowing or other perceived criticism.) Some tips were submitted anonymously but then researched.
Act 2 Credits Outcry🔗
When Act 2 released, people immediately realized something was wrong; the game released without any crediting of any kind. The credits button was missing from the main menu, there was no postgame credits reel, and even the soundtrack DLC didn't have the artists listed.
Alienoid @AlienoidNovace

Okay but is anybody going to talk about why (Hiveswap Act 2 spoilers (I guess???)) uuuuuuuhhhhhhhhhhh

is anybody gonna talk about why there's no credits?? like, at all?????? main menu, post-game, what??????????????

Thu Nov 26 19:00:29 +0000 2020
Replying to

giovan_h

:

I've had "Homestuck doesn't credit artists properly" as a problem on my radar for a while now but this is the most egregious thing yet

Thu Nov 26 19:33:50 +0000 2020
Homestuck Tech Support @yoitscro

Hiveswap Act 2 needs a credit section, just an fyi.

There's no reason why the artists who hauled ass aren't featured. It doesn't matter if it's attached to Act 1; there are new people or people who aren't apart of the team now, so like….that should be part of an update.

Thu Nov 26 19:22:32 +0000 2020
Homestuck Tech Support @yoitscro

Replying to

yoitscro

:

Artists and animators not being credited are a big problem in the video game industry…let's…be better than that maybe??

Thu Nov 26 19:26:10 +0000 2020
hot take but everyone who laid hands on a game should get credit for the work they did. a central issues of labor organization in entertainment industries 100 years ago was the right to be credited! it's insane how many games eschew credit if you left the team before it shipped.

Fri Nov 27 03:21:43 +0000 2020
Replying to

giovan_h

:

@giovan_h it's really direly upsetting to me that HS, of all things, can't be a model representation of the labour ethics that are closely embraced by the independent creators in its fandom

Thu Nov 26 21:13:45 +0000 2020
Replying to

RumpusFruity

:

@RumpusFruity you don't have to explain that you laid off most of the people that originally worked on the game if you don't credit anyone at all

Fri Nov 27 17:50:37 +0000 2020
After prolonged outrage on Twitter and Reddit, as well as targeted review bombing on Steam, the new "homestuckteam" curiouscat account posted this statement:
teamstuck @homestuckteam

For those of you wondering about credits: in an effort to avoid the targeted harassment that many members of our team have previously experienced, the team agreed to only credit the studio initially. More thorough credits will be patched in as launch hype dies down.

Fri Nov 27 18:51:39 +0000 2020
Members of the Hiveswap development team quickly responded saying that they did not agree to only credit the studio initially, and that this tweet was a lie. Former members of the Hiveswap development team, whose work was used uncredited, were also not consulted, and agreed to nothing of the sort.
Shadolith @Shadolith

As someone who last worked with the Hiveswap team in 2018, I wasn't contacted about this. I'm glad measures are being taken to mitigate harassment, but an opt-out option would have been vastly preferable to only being credited after the hype dies down.

Nov 27 13:25:00 +0000 2020
I also talked about this myself on twitter:
Fri Nov 27 00:45:15 +0000 2020
Replying to

giovan_h

:

Homestuck has two distinct ways it mishandled crediting and I'm honestly not sure which is at play here

Fri Nov 27 21:22:56 +0000 2020
Replying to

giovan_h

:

This isn't really about harassment, and we know "the team" DIDN'T agree to it. I don't believe for a second they planned to EVER credit anyone until the blowback, either.

The only useful thing we can glean from this statement is WP is still lying.

Fri Nov 27 21:27:04 +0000 2020
Replying to

giovan_h

:

From what I've seen, the "harassment" the team experiences is mostly criticism directed at management and writers, NOT the artists and animators by association, like this absurdly suggests.

Fri Nov 27 21:34:37 +0000 2020
Suffice it to say, nobody bought that.

The game was silently patched with credits one day later, on November 28. Metadata for the credits page was actually in the game all along, but the credits slide itself had been removed, indicating that the credits functionality was implemented but later specifically disabled for release. The soundtrack was not updated, and still does not credit the musicians, although James Roach later posted the credits himself.
in case you missed it here is the Hiveswap Act 2 credits video

Mon Nov 30 00:12:27 +0000 2020
James Roach @hamesatron

ok answerin a few questions:

here is a breakdown of the OST that i made a while ago

im not in charge of this so, grain of salt, but i THINK yes they are planning to eventually put it on various streaming services

we will probably not be doing a robust OST commentary this time

Fri Nov 27 21:14:55 +0000 2020
No announcement was made on Steam or Twitter, nor was the "targeted harassment" issue brought up again. A few entries on the credits page were, however, left anonymous or pseudoanonymous. As was discussed on Twitter, leaving credit entries anonymous or pseudoanonymous is an effective way of handing this.
Act 2 Cut Content🔗
Act 2 also had a significant amount of cut content, including several minigames and entire characters who were heavily featured in promotional material.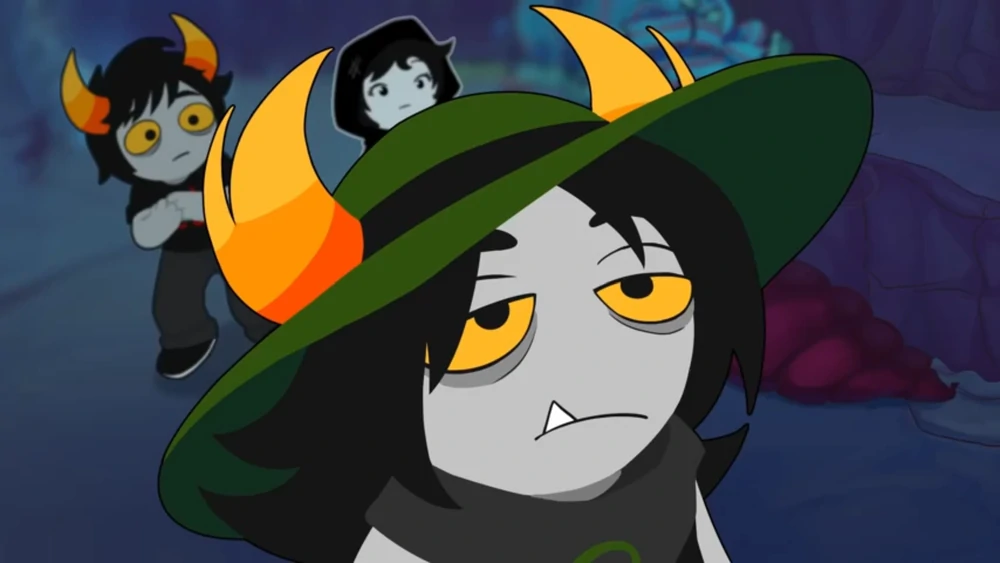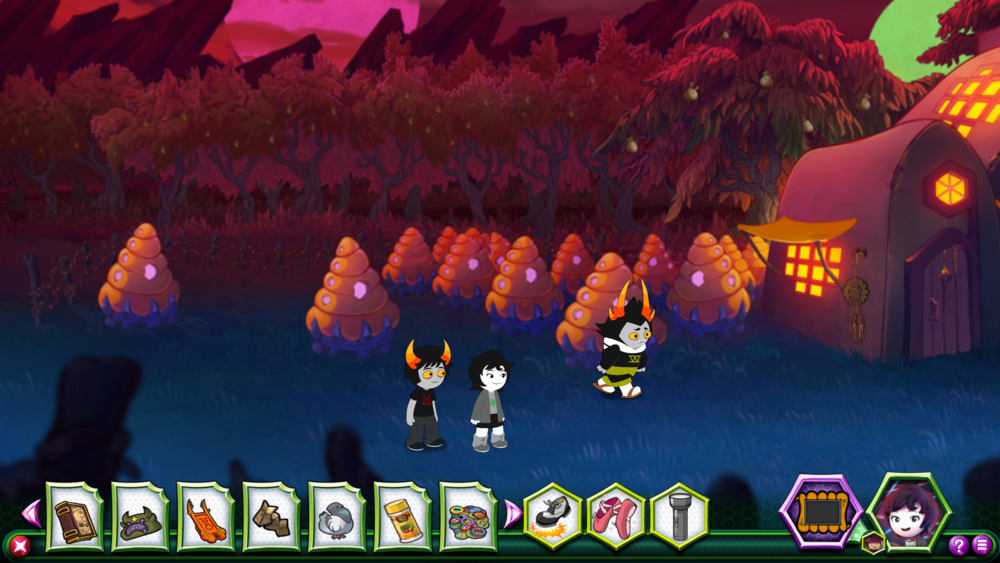 Sirs not appearing in this game

One of the few remaining minigames, a bee-themed rhythm minigame, was retroactively (and silently) removed from the game several days after release. It was simply cut, and not replaced with any sort of explanation. teamhomestuck made the following statement about this when asked:
Q: What drove the decision to remove the bee minigame? I really liked it :(

A:

We received reports that the bee game was a hard block for people with certain mobility issues. Engineering solutions like a skip button might've taken several more days to implement. We preferred to get out an accessibility solution ASAP so we opted to just remove it. But we'll consider our options about what to do with it in the future.

We have had limited availability from a handful of people to take care of urgent issues as they come up due to the holiday, so we apologize for the delays.

Starting this week we'll take a good look at what improvements we can make based on your feedback. Thank you all for your patience and help tracking down the last few bugs since launch.
On twitter, they followed this with
teamstuck @homestuckteam

Replying to

homestuckteam

:

To reiterate, it is a weekend. Typically, workers prefer not to work on the weekend, and we do not want to demand our contributors put in excessive weekend overtime. We chose a solution we could push immediately so people with accessibility issues could complete it right now.

Sun Nov 29 23:52:49 +0000 2020
As I brought up at the time, just a few days prior, James Roach himself tweeted about finding the bee minigame really hard. Then WP said they were blindsided by accessibility needs and had to scramble to make the game playable. I have a hard time reconciling those two facts.

Either "the bee game was inaccessible because nobody told us" is a lie or WPG is extremely dysfunctional. or both. probably both.

Also, WP turning around and framing this as "we're indie devs, people are making unreasonable demands of us" is insulting and absurd given they had ample time to do testing themselves but choose not to. But "we are the victims of this problem we caused ourselves" seems to be the go-to line from WP

Despite their implication that fixing the accessibility issue was an urgent priority that would almost be enough to drive them to work over the weekend, the bee minigame would not be fixed until 2021-01-14, when the game was patched with no update description on steam and no announcement on social media.
Key reselling scheme🔗
On November 30, @homestuck made an announcement:

Although the announcement does not specify the cut What Pumpkin is claiming to give to charity, the web page linked says 10%. This is only a third of Steam's 30% cut, so What Pumpkin actually makes 128% percent of their usual profit when you buy from their site directly, even though they're giving a cut to charity.

(Although December came and went, it is unclear whether the 10% cut is still going to charity, or if What Pumpkin is pocketing the full amount. The storefront page has not been updated to reflect a change, but this could be in error.)

While Steam does provisionally allow key selling, they explicitly reserve the right to deny keys to developers who misuse keys in various ways. Steam may take action against What Pumpkin for explicitly working to cut Steam out of the loop and keep them from getting their fee, although they have not done so yet.