The "blue check" — a silly colloquialism for an icon that's not actually blue for the at least 50% of users using dark mode — has become a core aspect of the Twitter experience. It's caught on other places too; YouTube and Twitch have both borrowed elements from it. It seems like it should be simple. It's a binary badge; some users have it and others don't. And the users who have it are designated as… something.
In reality it's massively confused. The first problem is that "something": it's fundamentally unclear what the significance of verification is. What does it mean? What are the criteria for getting it? It's totally opaque who actually makes the decision and what that process looks like. And what does "the algorithm" think about it; what effects does it actually have on your account's discoverability?
This mess is due to a number of fundamental issues, but the biggest one is Twitter's overloading the symbol with many conflicting meanings, resulting in a complete failure to convey anything useful.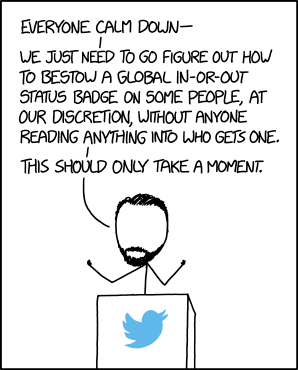 History of twitter verification🔗
Twitter first introduced verification in 2009, when baseball man Tony La Russa sued Twitter for letting someone set up a parody account using his name. It was a frivolous lawsuit by a frivolous man who has since decided he's happy using Twitter to market himself, but Twitter used the attention to announce their own approach to combating impersonation on Twitter: Verified accounts.
In their post, they announced about a limited beta where Twitter employees would manually verify "public officials, public agencies, famous artists, athletes, and other well known individuals at risk of impersonation." They clarify that, of course, "this doesn't mean accounts without a verification seal are fake" and that "another way to determine authenticity is to check the official web site of the person for a link back to their Twitter account."
At this point, the process is clearly focused on impersonation. Verification is to help prevent confusion. But already there's a sneaky conflict buried in the process: it's a beta, and they're starting with individuals who are well known, so already there's some doubt introduced as to the meaning of verification. Does it mean you're who you claim to be, or that you're both that and somehow noteworthy? And who defines that?
Twitter verification remained a closed don't-call-us-we'll-call-you process until 2016, when Twitter deigned to let people humbly request that Twitter verify them. Even with open admissions though, it's still a "private club, gated behind an invisible, exclusionary admissions process that wasn't documented anywhere." But even this announcement came with more language about what verification means, which is again problematic:
Verified accounts on Twitter allow people to identify key individuals and organizations on Twitter as authentic, and are denoted by a blue badge icon. An account may be verified if it is determined to be of public interest. Typically this includes accounts maintained by public figures and organizations in music, TV, film, fashion, government, politics, religion, journalism, media, sports, business, and other key interest areas. … We took a look back and found that the @CDCGov was one of the first Twitter accounts to be verified, in an effort to help citizens find authentic and accurate public health information straight from the source.
Ignoring the awkward sentence construction at the top, let's identify the various conflicting goals here: "authentic" again supports this idea of verification as a defence against impersonation, but then "key individuals … determined to be of public interest" again reinforces this idea of verification being a kind of endorsement given to people an elite committee at Twitter deem to be good and important. They even give "be like the CDC" as an implied example of what it means to be noteworthy. What are people supposed to make of that?
Remember the original announcement, where Twitter mentioned that "another way to determine authenticity is to check the official web site of the person for a link back to their Twitter account"? As Anil Dash pointed out in What it's like being verified on Twitter, Twitter already has a way to verify the authenticity of a Twitter account for analytics: authoritatively linking it to a website. In other words, you could have a badge that confirms "this is the real twitter account of giovanh.com" by just using the existing analytics logic, which would add a layer of trust and identity on top of Twitter's existing username system. (In fact, this is the basic system Mastodon uses.)
Why not use a system like this to verify identities once they opened up the process to the public, instead of still requiring a committee to verify people? Because it was already too late to just verify people's identities. After day 1, it wasn't just about impersonation anymore. By this point they had overloaded the "blue check" signifier too much already, and couldn't let "just anybody" be verified.
All the different things the blue check can mean🔗
The big problem is that the blue check symbol is wildly overloaded. Verification tries to simultaneously do many different things and therefore fails at all of them because those goals are not aligned with each other. Verification is generally a layer of "trust", but what exactly is that trust supposed to be in?
On Wednesday, @DannyDevito expressed solidarity with striking Nabisco workers.

"NO CONTRACTS NO SNACKS," he tweeted.

Today, Twitter stripped him of his verified status, DeVito confirmed to More Perfect Union.

Thu Aug 19 21:32:25 +0000 2021
The utter failure of the blue checkmark is Twitter's complete inability to decide what it means and communicate that to people. "This is really who they say they are" is such a home-run concept, but it got loaded with so much baggage that we're... here. twitter.com/MorePerfectUS/…

Thu Aug 19 22:39:18 +0000 2021
Replying to giovan_h:

If you simplify twitter's verification policy by removing all the contradictory parts, all you get is "It's blue"

Sat Nov 18 01:44:26 +0000 2017
Twitter Verification requirements - how to get the blue check reads
The blue Verified badge on Twitter lets people know that an account of public interest is authentic. To receive the blue badge, your account must be authentic, notable, and active.
Verification in my remark comments🔗
I think the verification design pattern can be a good one. I use it myself, in my blog comments.
My account is verified, so people can't impersonate me. That's important. I want to be able to post comments authoritatively, without opening up the door for impersonation. Also, if someone relevant to an article showed up to say something I'd verify them so it's clear they aren't impersonating them.
There's definitely value in verification as a design pattern if executed correctly, but how difficult that execution is depends on all the different problems you're trying to use it to solve. (If it's more than one, you've failed right out of the gate.)
I think this is another instance where the benefits of scoped rather than universal moderation shine. I don't have to make a decision for the whole internet, just this space. But that's a whole other can of worms.