When I'm looking for an example of copyright abuse, I find myself returning to Nintendo a lot on this blog. Nintendo is a combination hardware/software/media franchise company, so they fit a lot of niches. They're a particularly useful when talking about IP because the "big N" is both very familiar to people and also egregiously bad offenders, especially given their "frdiendly" reputation.
Nintendo has constructed a reputation for itself as a "good" games company that still makes genuinely fun games with "heart". Yet it's also infamously aggressive in executing "takedowns": asserting property ownership of creative works other people own and which Nintendo did not make.
You'd think a company like Nintendo — an art creation studio in the business of making and selling creative works — would be proponents of real, strong, immutable creative rights. That, as creators, they'd want the sturdiest copyright system possible, not one compromised (or that could be compromised) to serve the interests of any one particular party. This should be especially true for Nintendo even compared to other studios, given Nintendo's own fight-for-its-life against Universal, its youth, and its relatively small position1 in the market compared to Disney, Sony, and Microsoft.
But no, Nintendo takes the opposite position. When it comes to copyright, they pretty much exclusively try to compromise it in the hopes that a broken, askew system will end up unfairly favoring them. And so they attack the principles of copyright, viciously, again and again, convinced that the more broken the system is, the more they stand to profit.
Introducing Nintendo🔗
Nintendo, even compared to its corporate contemporaries, has a distinctly hostile philosophy around art: if they can't control something themselves, they tend to try to eliminate it entirely. What Nintendo uses creative rights to protect is not the copyright of their real creative works, it's their control over everything they perceive to be their "share" of the gaming industry.
Let me start with a quick history, in case you're not familiar with the foundation Nintendo is standing on.
Nintendo got its start in Japan making playing cards for the mob to commit crimes with. It only pivoted to "video games" after manufacturing playing cards for the Yakuza to use for illegal gambling dens.
Nintendo got its footing in America by looking to see what video game was making the most money, seeing it was Space Invaders, and copying that verbatim with a clone game they called "Radar Scope":
Then, when that was a commercial failure, they wrote "conversion kit" code to turn those cabinets into a Popeye game, failed to get the rights they needed, and released it anyway. They kept the gameplay and even the character archetypes the same, they just reskinned it with King Kong. They didn't even name the protagonist after they swapped out the Popeye idea, so he was just called Jumpman.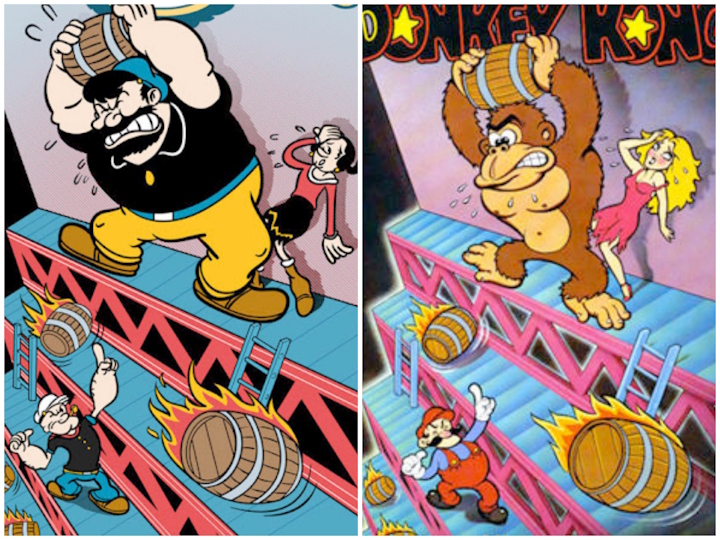 But then Nintendo was almost itself the victim of an abuse of IP law. "Donkey Kong" derived from King Kong, and even though the character was in the public domain, Universal Studios still sued Nintendo over the use. Ultimately the judge agreed with the Nintendo team and threw out the lawsuit, in an example of a giant corporation trying to steamroll a — at the time — small business with over-aggressive and illegitimate IP enforcement.
This was such an impactful moment for Nintendo that they took the name of their lawyer in the Universal Studios case — Kirby — and used it for the mascot of one of their biggest franchises. It was a significant move that demonstrates Nintendo's extreme gratefulness — or even idolization — of the man who defended them against abuse of IP law.
You would hope the lesson Nintendo learned here would be from the perspective of the underdog, seeing as they were almost the victim of the kinds of tactics they would later become famous for using themselves. But no, it seems they were impressed by the ruthlessness of the abusers instead, and so copied their playbook.